I love surprises, whether or not anyone else does. That's why I can't stand asking the question, "What do you want?" when I have to buy a gift for someone. In a desperate attempt to avoid said surprise-spoiler, I often default to checking out the gifts most added to wish lists — especially if I'm shopping for my partner, dad, brother, or guy friends. The men in my life are notoriously hard to buy for, so I like to get a little insight from other men who've got their eye (or mouse cursor) on the coolest, most innovative presents.
Perhaps my favorite dudes are so hard to shop for because they don't fit into the quintessential male gift guide. My dad can't stand football, I've never seen my boyfriend in a tie, most of my friends can't grow a beard, and I don't think a single one of them has ever picked up a golf club in their lives.
The good news? If you're currently drawing a blank, here are some of the most original gifts for men that other men can't wait to get their hands on.
The Ferrari 458, who wouldn't want a Ferrari ? – $240,000

In all of its supercar splendor and race-derived mechanical majesty, is the modern iteration of those classic Ferrari models – plus a lot more
---
For the Commuter:  OjO Smart Electric Commuter Scooter for Adults – Buy It For $1,950

Sleek AF in graphite grey, this smart scooter tops speeds of 20 mph, can reach distances of 25 miles on a single full charge, is bike-lane friendly, and no license is needed.
---
For the Fitness Guy:   New Fitbit Alta Fitness Tracker –  Buy It For $150
Because now he can track workouts, heart rate, distance, calories burned, floors climbed, active minutes and steps. Plus, monitor how long and how well you've been sleeping (YES!) and can even receive texts and calls at a glance when you're on the move. Oh, and did we mention it's water resistant?!
---
For the Groomer: Birchbox for Men of the Month – 
Buy It For $10/month
Best Seller: Deluxe guy-related grooming and skincare (and more!)  product samples delivered to your door every month.  Let him test out new things each and every month. He'll love it!
---
For the Techie Who Needs Answers:  The New Amazon Echo Plus – Buy It For $150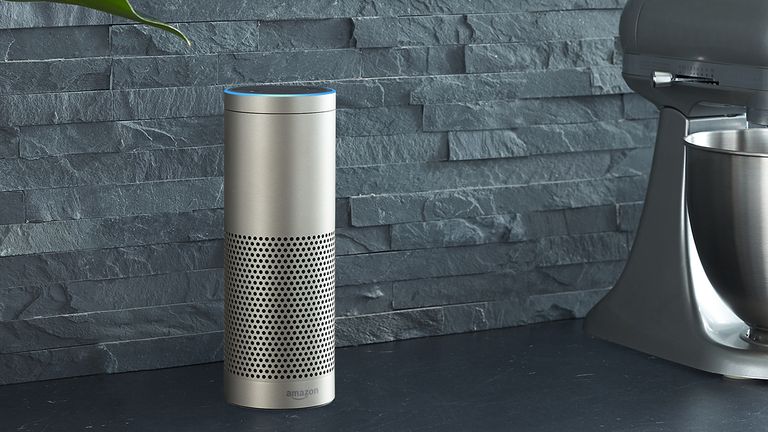 New and improved and getting smarter all the time.  Hands-free, ask Alexa anything and she'll answer. For real, she has 1M answers.  It's pretty fun and helpful all at the same time.  Weather, questions, horoscopes, stocks, traffic?  Done and done.  Plus listen to music because, music!  You can also get the smaller version (the Echo Dot)
---
Best Holiday Inspired Cologne:  Spicebomb – Buy It For $92

Very masculine scent and refreshing for any time of year, plus everyone is always obsessed with the bottle which, itself, is like a work of art.
---
For the Music Guy on the Go:  New Bose SoundLink Portable Wireless Bluetooth Speaker – Buy It Here $199

He can bring this portable speaker pretty much anywhere.  Plus, did we mention it's water resistant (hello beach!).  Experience up to 12-hours of playtime on full-charge thanks to the rechargeable battery.  Oh, and it's Bose so you know the sound quality is stellar.
---
For the Phone Protector: Wooden iPhone Skyline Case – Buy It For $29
Slim, easy grip, rustic wood-grain and sleek AF.  Other designs available.
---
Best Gift for the Guy on the Go: iPad TV Stand – Buy It For $30

Perfect for train rides, plane rides, or just when you don't want to hold your iPad whilst in bed (like an animal)
---
For the Classy Drinker: Whiskey Stones Gift Set – Buy It For $20

Don't dilute his drink with ice (gasp!) so use the trendy whiskey stones instead.  Just freeze 'em and add 'em to your drink and you're chilled and good to go.
---
For the Tech Obsessed Guy:  The New Echo Show – Buy It For $229
Because now Alexa can actually show you how to do things instead of just telling you!  Watch your video flash briefings, listen to music or watch videos, enjoy hands free face-to-face calling, hook it up to your home security cameras or monitoring systems and simply ask Alexa to "show you the front door" to see who's there. It can basically do everything that your first echo could do, but nowway more!
---
For the Forward-Thinking Guy:  Classic 'Feminist' T-Shirt
Everyone is loving the idea of wearing this positive vibe around with them all day long.  If grey isn't your color, check it out in the coolest green, pale blue, soft pink, and more!
---
For the Fun Boss: Desktop Golf Game – Buy It For $35

Because if he can't actually be on the course he might as well be able to strategize while at his desk.
---
For the Shower Dude:  Grey Waffle Shower Robe
---
For the Anti-Alexa:  'Google Home' Voice Activated Speaker – Buy It For $129
Because you just may be over Alexa and want to try something new.  Google Home pretty much rocks because Google can basically help you with anything.  I mean, they do online so why not in your home!? It can play your favorite music, answer a zillion questions (in a nice voice), can play some games, help organize your day and can actually recognize up to 6 different Google accounts based on your voice signature.  So cool!
---
For the Germaphobe: PhoneSoap Smartphone Sanitizer & Cleaner – Buy It For $50

Thanks to the magic of UV lights, you can now sanitize your phone as much as you want.  Say goodbye to gross germs and hopefully anything and everything "flu."
---
For the Grillmaster: Individual Grilled Cheese Maker – Buy It For $25

He'll love to make the perfect grilled cheese for himself (or you) right on the grill.  It's basically like the portable S'mores maker but, you know, way better because, cheese.
---
For the Business Traveler: Filson Travel Kit in Navy Blue Canvas – Buy It For $125

Because, yes, he does have toiletries and he can pretty much fit them all right in here…instead of that plastic bag he had been using.
---
For the Home Chef:  Make Your Own Hot Sauce Kit – Buy It For $35
Because, for real, he'll totally love this.
---
For the Cigar Smoker:  Cohiba Dominican Robusto Cigars – 
Buy It For $277
Don't worry, these are the legal ones!  He'll love the medium-strength, pepper, and cedar flavor and notes. Plus, this is the best price we could find online for 25 cigars!  And don't forget he'll probably want a new humidor too!
---
Best New Shaver for 2017: Braun Series 9 Electric Shaver with Cleaning Station – Buy It For $277
Because this wet and dry bad boy can shave his beard in so many different directions (since his hair pattern is usually all over the place).  Plus it's waterproof so dropping in the sink is no big deal.  He'll love how it looks sleek AF!
---
For the Shoe Lover: J&M 1850 Wingtip Slip-On Loafer – Buy It For $150
Because he really should show up everywhere in style. Plus, a wingtip-loafer hybrid is blowing our mind.
---
For the Guy Who Packs It Up: Yeti Hopper – Buy It For $200
Holds up to 6 cans, and ice.  Good to go.
---
For the Money Saver:  Burberry Blue/Black Credit Card Holder/Wallet – Buy It For $190
---
The Must-Have Phone:  Apple iPhone 7 – Starting at $399
Because you don't want him to suffer from FOMO.  The new iPhone 7 is pretty cool, plus the battery life is so much better so it's a necessary upgrade.
---
For the Star Wars Guy:  The R2-D2 Coffee Press – Buy It For $40
The coffee press that literally everyone is trying to get their hands on this holiday season.  R2-D2 has always been a friend and now can make your morning that much better by giving you up to 4-cups of coffee that are…wait for it…out of this world.
---
For the Classy Water Drinker:  Swell 'Blonde' Wood Stainless Steel Water Bottle – Buy It For $25
---
For the Trendster:  Tortoise Whiskey Framed Sunglasses – Buy It For $95
---
For the Shhhh!:  New Bose QuietControl 30 Noise Canceling Wireless Headphones – Buy It For $299
---
For the Picky Shopper: Amazon.com Gift Card – Buy It For $50
You can buy literally almost anything at Amazon.com.  Plus Amazon Prime (2 day or less free shipping) has made my entire life.  Choose either a traditional gift card (and have it shipped to them or you) or you can even print out your own Amazon gift card at home.  So many options.
---
For the Traveler:  The Carry-On Cocktail Kit – Buy It For $80
Now he can make his own little cocktail right on the plane (TSA approved)!  This holiday gift set includes the kit to make a Moscow Mule, an Old Fashioned, and a Gin and Tonic.  Wheels up!
---
For the Whiskey Drinker: The Corkcicle Ice Whiskey Wedge:  Buy It For $16
---
For the Home Chef:  Hello Fresh Food Subscription Box – Check It Out
The Classic Box features a variety of recipes for meat, fish, produce, and grains. Starting at $69 per week, choose dinner for 2 or for 4.  Then decide on 3, 4 or 5 meals per week.  Along with pre-measured, fresh ingredients, you'll also receive recipes.
---
For the Music Lover on the Go:  New Beats Solo3 Wireless On-Ear Headphones  – Buy It For $225
---
For the Binge-Watcher:  The All New Fire TV Stick – 
Buy It For $40
The latest it finally here! Quickly connect it to your TVs HDMI port and watch over 250,000 shows from Netflix, Hulu, Amazon, HBO GO, and more. Hi Orange is the New Black!  Bye family and friends!  Plus, enjoy Alexa voice control and over 7,000 apps and games.
---
For the Hispter: The Ultimate Beard Haircare Pack – Buy It For $40
All natural facial haircare set, featuring beard oil, whisker wash and mustache wax.  Keep it clean and fresh.  Also, made in the USA!
---
For the Drinkster: Copper Moscow Mule Mug – Buy It For $17
Because you can't drink a Moscow Mule out of a regular glass…and you know that.  Keeps your mule perfectly cold as it should be.  Speaking of mugs, you can't go wrong with a cool variety of coffee cups and tea mugs.
---
For the Rockstar at Heart:  Newly Designed Converse Chuck Taylor II's All Star  – Buy It For $75
Because it's the first time they've been redesigned in 98 years!  Plus, get 'em in all new colors!
---
For the Face:  Kiehl's  Men's Heathy Skin Starter Gift Set – Buy It For $54
---
For the Clark Kent: Warby Parker Eyeglasses – Buy It For $95
Warby Parker Black are the ideal Mad Men-ish frames.  Have them mail up to 5 pairs of frames for you to try and send back what you don't like.
---
For the Outdoor Guy: Sorel Winter Boots – Buy It For $150

---
For the Bachelor:  Toaster Grilled Cheese Bags – Buy It For $10

Because grilled cheese in the toaster will forever change his life.
---
For the Golfer:  The Secret of Golf – 
Buy It For $20
Explore the relationship between two legendary golfers; Jack Nicklaus and Tom Watson.  This is a book that any true golfer won't be able to put down.
---
The Retro Camera: 
Fujifilm Instax Mini 90 Instant Film Camera 

– Buy It For $129
Because everything old is new again! #selfie.
---
For the Cold Brew Addict:  KitchenAid At-Home Cold Brew Coffee Maker – Buy It For $90
Because, yes, we're all obsessed with cold brew coffee and are ready to tackle making it at home ourselves! This one makes up to 14 cups of cold brew and the entire thing can fit right on the shelf in your refrigerator for easy (and all day and night) use!
---
For the Camper:  Adventure Medical First Aid Kit – Buy It For $92
---
For the MacGyver: Victorinox Wooden Swiss Army Knife – Buy It For $48
---
For the Fun iPhone Guy:  iPhone 7 & 7 Plus Cases (Plus iPhone 6 Too!)  – Buy It For $40
The coolest iPhone 7 (7 Plus and 6) cases we could find.  Check out the retro 80's music cassette tape, the most realistic football case ever, classic camo, or the hardwood floor case.
---
For the Organized Griller:  Golfers BBQ Set- Buy It For $26
He'll stay totally organized when it's time to grill which, for us, is all year round.  And because these stainless steel barbecue tools have handles that look just like golf grips.
---
---
For the Laughs Alot Guy:  New 'What Do You Meme' Card Game for Adults – Buy It For $30
Move over 'Cards Against Humanity' there's a new hysterical card game in town! Compete to create the funniest meme by pairing the caption cards with the photo card in play. A rotating judge picks the best combination each round. For anywhere between 3 – 2o players!  Laughs and hijinx, of course, ensues.
---
For the Runner:  Apple Wireless Bluetooth AirPod Earbuds –  Buy It For $160
He's finally ready to be seen around town in these because everyone you know is already rocking them (and, no, they don't fall out when running).
---
YETI Rambler 30 oz Stainless Steel Vacuum Insulated Tumbler – Buy It For $35
This 30 oz rambler is perfect for the guy who needs his coffee (or not coffee) to stay hot or chilled for long periods of time.  Hello hockey rink!
---
Patagonia Nano-Air Jacket – Buy It For $249
Available in other colors and patterns, as well as slim and regular fit.  This jacket is stretchy, breathable and warm.
---
Men's New England Patriots New Era Navy 2017 Sideline Historic Sport Knit Hat – Buy It For $30
Root for the home team and keep warm.  Available in other NFL teams.  Supposedly.
---
RLX Golf Active Fit Performance Polo – Buy It For $90
A breathable stretch jersey, that's comfortable and moisture-wicking. Fore!
---
Titleist Pro V1 Golf Ball – Buy It For $40
Because they can always use some extra golf balls.  Not that they lose them in the woods or anything.  Allegedly.